H1 D WH
DMX-controllable House Light with Daylight LED
80 W daylight LED with total light ouput of 5900 lm
6500 K colour temperature, CRI > 95 for optimal colour reproduction
Adjustable beam angle from 20° to 65° via exchangeable lenses
Completely silent operation thanks to convection cooling without fans
Controllable via DMX, W-DMX ™, RDM and optional UNICON® remote control
RJ45 and terminal block plug for simple integration into any environment
Combined form and function in minimalistic design
Flicker-free operation thanks to selectable PWM frequencies up to 25 kHz
Optional installation set and wall bracket available for ceiling and wall installation
80 W daylight LED with total light ouput of 5900 lm
6500 K colour temperature, CRI > 95 for optimal colour reproduction
Adjustable beam angle from 20° to 65° via exchangeable lenses
Completely silent operation thanks to convection cooling without fans
Controllable via DMX, W-DMX ™, RDM and optional UNICON® remote control
RJ45 and terminal block plug for simple integration into any environment
Combined form and function in minimalistic design
Flicker-free operation thanks to selectable PWM frequencies up to 25 kHz
Optional installation set and wall bracket available for ceiling and wall installation
Description
Minimally designed installation light for sophisticated lumen beings
The daylight version of the compact Cameo® H1 D makes it possible for light installers, interior designers and lighting technicians to meet the challenges of creating atmospheric lighting in a wide variety of locations. You can take the ambience in theatres, restaurants, hotels, at trade fair stands, and in many other places to the next level with this modern house light and emotionally inspire your audience. The installation fixture fits seamlessly into existing interior design with its deliberate minimalistic design. Its housing comes in either black or white and discreetly blends into interior spaces without drawing attention.
Efficient lighting technology for lighting architecture and comprehensive installation projects
The high lighting efficiency of the daylight LED module combined with uniform cold white lighting lets you benefit in many ways. For one, Cameo's H1 D doesn't make any noise during operation thanks to its convection cooling, making it the ideal choice for sound-sensitive environments. Secondly, the daylight light with its high colour fidelity across all measurable categories creates visually stunning aesthetics without any distorted colour effects and allows the natural colours of costumes, objects and food to really pop. Finally, the H1 D features a flicker-free light with high-resolution, soft dimmer response based on 16-bit technology so that it can't be told apart from conventional lighting. Creating the perfect feel-good environment with a pleasant atmosphere is always guaranteed!
Controls based on the individual set-up
Our H1 series house light offers you maximum flexibility in terms of controls. You can integrate the installation light into your set-up using DMX, wireless W-DMX ™ and RDM. The device was deliberately designed with no built-in display to make it practical to use in interior design. The optionally available UNICON® remote control is the best way to intially configure the device and can be used to control, retrieve and save all device functions, so that you can transfer them to other devices and conveniently set up the entire lighting installation. In addition, the firmware on a vast array of compatible end devices can be updated using the UNICON® remote control.
Flexible installation possibilities as a pendant, sconce or integrated ceiling light
No less impressive are the wide variety of ways to install this modern house light. The H1 D can be incorporated into your lighting concept based on your specific requirements as a hanging theatre light, a downlight on the wall or a built-in ceiling light. Quick installation flush to the ceiling is instantly possible with the optionally available installation kit. Cable connections can easily be tucked away and hidden from sight during installation with the wall bracket specially designed for the H1 series, which can also be used to install the spotlight as an uplight.
The Cameo H1 series combines extensive installation and control options and elegant design with the latest LED technology to cover all your modern architectural lighting needs.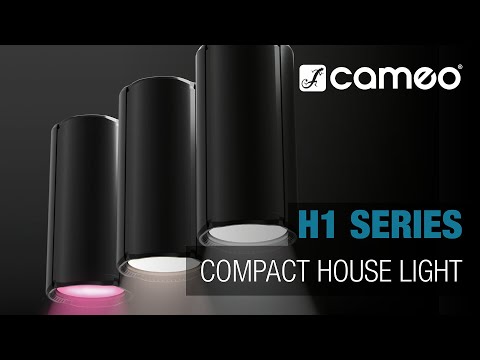 Specifications
Product type
LED Lighting
Type
Installation spotlights
LED PWM Frequency
800 Hz, 1200 Hz, 2000 Hz, 3600 Hz, 12 kHz, 25 kHz - adjustable
Dispersion
20 °, 30 °, 65 °
DMX input
RJ45, Terminal block
DMX output
RJ45, Terminal block
DMX Functions
Device Settings, Dimmer, Dimmer Fine, Strobe
Control
DMX 512, RDM, W-DMX
Standalone Functions
Static
Controls
8 DIP Switch, External Remote Control, W-DMX Button
Operating voltage
100 V AC - 240 V AC, 50 - 60 Hz
Inrush Current Power @ 10 ms
2.7 A @ 240 V / 50 Hz
Colour rendering index (Ra)
>95
Power connector
Terminal block
Ambient temperature (operating)
0 - 40 °C
Housing Cooling
Convection
Recommended cable for operation as pendant lamp
H07RN-F 3G1.5
Accessories (included)
1 x omega mounting, 2 x exchange lenses
Optional accessories
Ceiling installation kit, Half and full glare shield, Wall mounting bracket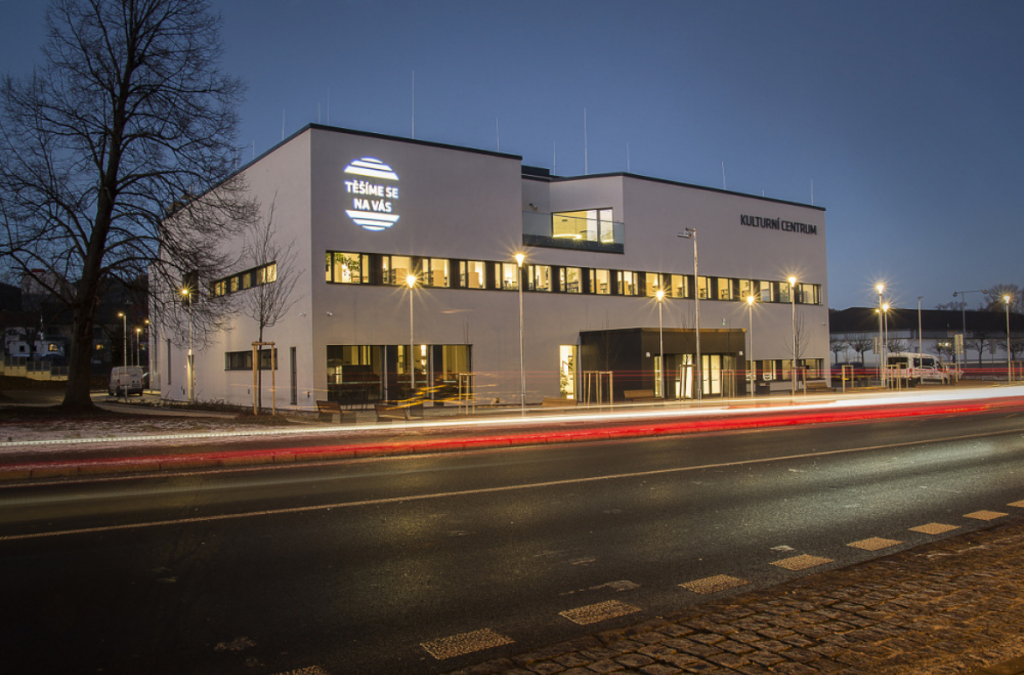 Versatile Application: Klášterec nad Ohří Cultural Centre in the Czech Republic Resplendent with Cameo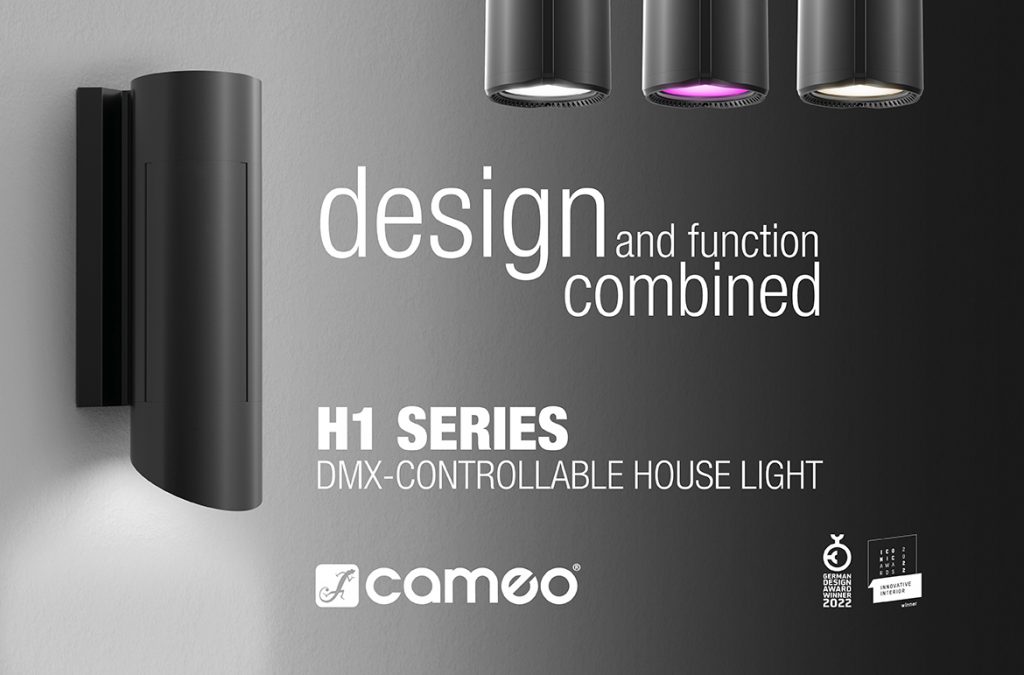 Award-winning product design – Cameo H1 Series honoured with the German Design Award 2022 and Iconic Award 2022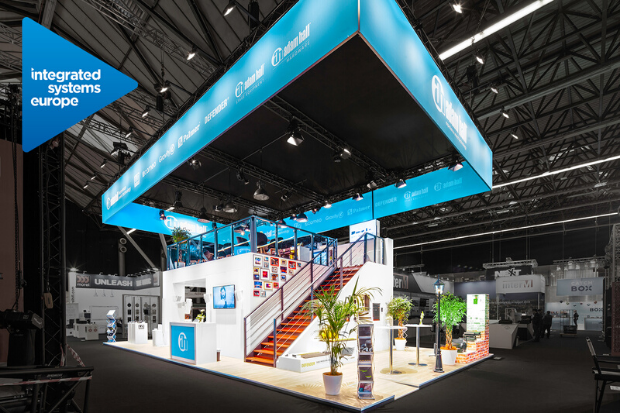 Press: Adam Hall Group Highlights New Audio and Lighting Products at ISE 2020
For a quote on this item, please contact our sales department or make an appointment with our sales representatives.
Adam Hall North America Inc.
sales.us@adamhall.com
+1 973-335-7888