ROOT® PAR BATTERY
5 × 4 W Battery Powered RGBW LED PAR Spotlight
5 × 4 W Quad Color RGBW LED with 1,000 lm
Lenses optimized for even light intensity
DMX and power input and output for daisy-chaining several devices
Exclusive, patented EZchase® DMX delay feature for simple chase effects
Powerful lithium-ion battery for 5+ hours of mobile operation
USB port for iDMX® stick for wireless DMX transmission via W-DMX™
Built-in microphone for sound control
Flat, compact ABS housing with rubber-coated feet
Twin mounting bracket included, tilt adjustment screw for uplighting applications
IR remote control available as an option (item no. CLPFLAT1REMOTE)
5 × 4 W Quad Color RGBW LED with 1,000 lm
Lenses optimized for even light intensity
DMX and power input and output for daisy-chaining several devices
Exclusive, patented EZchase® DMX delay feature for simple chase effects
Powerful lithium-ion battery for 5+ hours of mobile operation
USB port for iDMX® stick for wireless DMX transmission via W-DMX™
Built-in microphone for sound control
Flat, compact ABS housing with rubber-coated feet
Twin mounting bracket included, tilt adjustment screw for uplighting applications
IR remote control available as an option (item no. CLPFLAT1REMOTE)
Description
Whether you're a musician at a festival, a guest DJ in a club or a lighting technician at an industry event, organisers and audiences expect to see a versatile, top quality performance delivered by a professional range of flexible lighting. The ROOT® PAR BATTERY means you no longer need to worry about locations not having a suitable power supply available. Thanks to its integrated battery, the RGBW LED PAR light's strong colors and professional functionality can be used anywhere.
Even without battery operation, you can always rely on a guaranteed clean and safe power supply with PowerCON®-compatible mains connections. The separately available iDMX® stick can also be connected to the built-in USB port to upgrade the ROOT® PAR BATTERY to W-DMX™ in order to save unnecessary cable runs -functions you would normally only expect from high-end spotlights.
This Cameo spotlight introduces a unique, patented EZchase® DMX delay function for situations when you can only use a few materials and have a limited number of staff. Simply pick up the DMX signal from the first ROOT® PAR and loop it through other devices. Et voila, you have a complete PAR stage lighting controlled with minimal programming effort which can also create fascinating - white and colored - running light patterns. Now's the time to get creative.
Thanks to its strong 1,000 lm output, the ROOT® PAR BATTERY delivers enough power to light up bands, DJs and rental companies. The five 4 W RGBW LEDs are identical to the lighting used in other ROOT® PAR models. Which means, you can easily combine different models from the ROOT® PAR series, whether they are connected to mains power, or batteries, are wired or based on W-DMX™, allowing you to create even more flexible set-ups. In addition to being controlled via DMX in master/slave or stand-alone mode and wireless control, the ROOT® PAR BATTERY can be used automatically and synchronized with the music using its built-in microphone.An optional IR remote control is also available separately. (CLPFLAT1REMOTE).
The ROOT® PAR BATTERY is supplied with a twin mounting bracket and a tilt adjustment screw, so the RGBW PAR spotlight can also be used as an uplight without a bracket. In addition to its rugged and compact housing and PowerCON®-compatible inputs and outputs, passive, fan-free convection cooling ensures maximum reliability when on the road.
This results in a wide range of possible uses: as a flexible mood light at band concerts, as reliable lighting for DJs performing in unusual locations, or as high-quality ambient lighting for the lounge areas at your next corporate event. The ROOT® PAR BATTERY is your professional and flexible jack-of-all-trades that lets you keep everything under control, even when you're on the go and out touring.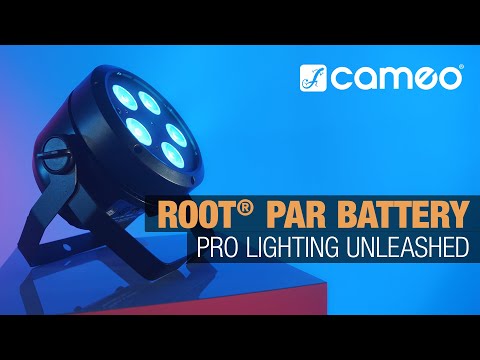 Specifications
| | |
| --- | --- |
| Product type | LED PAR Lighting |
| Type | Rechargeable battery |
| Colour spectrum | RGBW |
| Number of LEDs | 5 |
| LED type | 4 W |
| LED PWM Frequency | 650 Hz, 1530 Hz, 2150 Hz, 4000 Hz - adjustable |
| Dispersion | Beam Angle: 19 °, Field Angle: 36 ° |
| DMX input | XLR 3-pin male |
| DMX output | XLR 3-pin female |
| DMX mode | 10-channel, 3-channel, 5-Kanal 1, 5-Kanal 2, 6-channel, 7-channel |
| DMX Functions | Chaser selection, colour macro, Dimmer, Dimmer Fine, DMX Delay, RGBW, sound sensitivity, strobe |
| Control | DMX512, IR Remote Control, W-DMX |
| Standalone modes | Auto programs, Colour presets, Loop, sound programs, Static, User Colours |
| Controls | Down, Enter, Mode, Up |
| Indicators | OLED Display |
| Operating voltage | 100 V AC - 240 V AC, 50 - 60 Hz |
| Power consumption | 50 W |
| Housing material | ABS plastic |
| Cabinet colour | Black |
| Cooling | Convection |
| Illuminance | 8000 lx @ 1 m, 806 lx @ 3 m |
| Luminous flux | 1000 lm |
| Fuse | F3A / 250 V |
| Operating Temperature | 0 - 40 °C |
| Relative Humidity | < 75 %, not condensing |
| Width | 195 mm |
| Height | 156 mm |
| Length | 195 mm |
| Weight | 2 kg |
| Weight (incl. mounting bracket) | 2.5 kg |