OTOS® H5
IP65 Beam Spot Wash Hybrid Moving Head
IP65 rated beam spot wash hybrid moving head with 19,000 lm luminous flux
Continuously adjustable CMY colour mixing in addition to 15 dichroic filters for saturated colours and white tones
High-quality optics with 135- mm front lens and especially wide zoom range of 2° to 42°
Rotating gobo wheel with 8 indexable and rotatable replaceable glass gobos + open
Static gobo wheel with 19 gobos + open
2 rotatable and indexable prisms for varied mid-air effects
High CRI filter (>80) for enhanced colour reproduction and adaptation to TV and film cameras
Variable frost filter for use as a wash light
Flexible control options via a built-in W-DMX™ transceiver, DMX and RDM
IP65 rated beam spot wash hybrid moving head with 19,000 lm luminous flux
Continuously adjustable CMY colour mixing in addition to 15 dichroic filters for saturated colours and white tones
High-quality optics with 135- mm front lens and especially wide zoom range of 2° to 42°
Rotating gobo wheel with 8 indexable and rotatable replaceable glass gobos + open
Static gobo wheel with 19 gobos + open
2 rotatable and indexable prisms for varied mid-air effects
High CRI filter (>80) for enhanced colour reproduction and adaptation to TV and film cameras
Variable frost filter for use as a wash light
Flexible control options via a built-in W-DMX™ transceiver, DMX and RDM
Description
Extremely flexible Beam Spot Wash Hybrid Moving Head for outdoor use
As a professional designer of light shows, light operator or event technician, having one device that can do many things gives you the freedom to create an even more exciting stage experience for your audience. The OTOS® H5 not only lets you master this challenge with flying colours as a true hybrid device, but it can also be used for outdoor purposes in accordance with the IP65 rating. Its moving head is capable of many jobs, from a beam to a spotlight or wash light. You can tap into your power of lighting design creativity with the discharge-lamp Moving Light, which is extremely flexible, highly functional and very powerful.
High output and brilliant colour reproduction
The 480 W discharge-lamp moving light impresses with a powerful output of 19,000 lm, while the OTOS® H5's flat field filter enhances the uniform distribution of brightness at the same time. A beam angle of 2° to 42° is possible with the OTOS® H5 due to the high-quality optics and motorised zoom. From tightly focused effects to wide-area illumination, anything is possible. 16-bit resolution and four selectable curves also enable smooth, uniform dimming. There is a full range of colours for you to work with thanks to CMY colour mixing and additional colour wheel with 15 dichroic filters. Due to the brilliant colour reproduction with a high CRI filter (>80), the device is also ideally suited for use in TV and film footage.
Variable and emotionally charged light show with a fascinating variety of effects
A fascinating array of lighting effects is achievable when you use prisms on two prism levels, the animation wheel and the variable frost filter for wash light applications. The prisms open up unheard- of possibilities in terms of creating diverse mid-air effects. Multifaceted lighting is further enriched by two gobo wheels with 27 gobo templates in total, eight of which are exchangeable and rotatable glass gobos and 19 of which are static gobos.
Adjustable control options and easy-to-use operating elements
As a lighting technician, you've got a lot to do in little time: mains-free set-up is just as easy as it is fast with the battery-operated and easily readable OLED display with four operator touch-buttons. The control options also make it possible to flexibly connect and control the OTOS® H5 via the built-in W-DMX™ transceiver, DMX or RDM.
Fit for outdoor use in accordance with IP65 rating
You are by no means limited to indoor events with the Cameo OTOS® H5 as it is also suitable for outdoor use in accordance with the IP65 rating. Whether inside or outside, optimal cooling is guaranteed by a highly efficient heat pipe cooling system combined with temperature-dependent controlled fans. Two Omega brackets and a mains cable for safe installation and quick start-up are included with the Cameo OTOS® H5.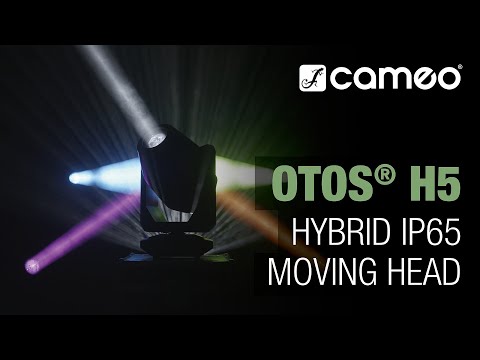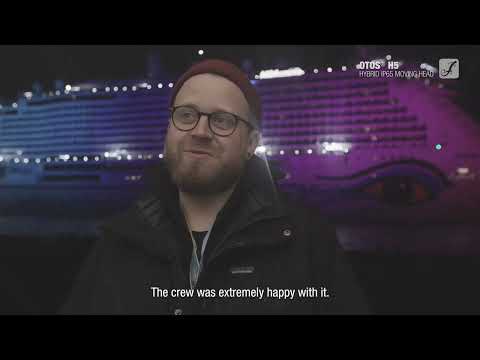 Specifications
| | |
| --- | --- |
| Product type | Discharge Moving Lights |
| Type | IP65, Moving Head |
| Number of lamps | 1 |
| Type Lamp | Signify MSD Silver 480 W |
| Operating time of illuminant at rated power | 1500 Hours |
| Maximum lifetime of illuminant | 3000 Hours |
| Color temperature | 6800 K |
| Colour spectrum | Cold white |
| Colour mixing function | CMY |
| Colour rendering index (CRI) | High CRI Filter > 80 |
| Color wheel Number of colors | 15 + open and continuous positioning |
| Number of gobos | 27 + open (19 fixed + 8 rotating) |
| Effects | 2 x Prism layers (6 x linear + 8 x circular), Animation Wheel, Frost filter 5° |
| Dispersion | 2 - 42 ° |
| DMX input | XLR 5-pin male |
| DMX output | XLR 5-pin female |
| DMX mode | 26-channel, 32-channel |
| DMX Functions | Animation Wheel, Colour wheel 1, Colour wheel 2, Colour wheel 3, Cyan, Cyan Fine, Dimmer, Dimmer Fine, Focus, Focus Fine, Frost, Gobo 1 Rotation, Gobo 1 Rotation Fine, Gobo 1 Shake, Gobo 2 Shake, Gobo wheel 1+ 2, High CRI Filter, Magenta, Magenta Fine, Pan/Tilt, Pan/Tilt fine, Pan/Tilt Macros, Pan/Tilt Speed, Prism 1/2, Prism Rotation, strobe, System settings, Yellow, Yellow Fine, Zoom, Zoom Fine |
| Standalone Functions | Master / Slave mode, Quicklight, Static |
| System settings | Blackout functions, Colour/ Gobo wheel, Display Illumination, Display Reverse, Feedback, Movement Blackout, Pan Angle, Pan Reverse, reset, Scroll / Snap, Signal Fail, Test, Tilt Reverse, User default values |
| Control | DMX512, RDM enabled, W-DMX™ (Transceiver) |
| Controls | Down, Enter, menu, Up |
| Indicators | Illuminated 2" TFT display |
| Operating voltage | 100 V AC - 240 V AC, 50 - 60 Hz |
| Electrical protection class | 1 |
| Power consumption | 700 W |
| Luminous flux | 19000 lm |
| Power connector | PowerCON TRUE1 compatible |
| Protection class IP | IP65 |
| Ambient temperature (in operation) | -15 - 40 °C |
| Housing material | Aluminium alloy, Die-cast aluminium |
| Cabinet colour | Black |
| Housing Cooling | Temperature controlled fan |
| Width | 456.4 mm |
| Height | 748.8 mm |
| Depth | 334.7 mm |
| Weight | 33 kg |
| Accessories (included) | 1 m Power cable with Neutrik powerCON TRUE1 plug, 2 x omega mounting |
For a quote on this item, please contact our sales department or make an appointment with our sales representatives.
Adam Hall North America Inc.
sales.us@adamhall.com
+1 973-335-7888