S4 IP
LED Softlight Panel - IP65
544 single SMD LEDs per colour (RGBWW) in 4-cluster arrangement
Enables outdoor use thanks to IP65 classification
Adjustable temperature range from 1,800 - 10,000 Kelvin
Adjustable PWM frequency for flicker-free operation
Manual operation on the unit or via EZRemote with the optional UNICON® (CLIREMOTE)
Control options via DMX, W-DMX, ArtNet, sACN & RDM
Ergonomic handles and recessed controls for safe handling
High colour rendering values (CRI 95, TLCI 91), plus 85% coverage of Rec. 2020 colour space
Optional dark filter (CLS4IPDARKFILTER) integrates the panel into any scenery
Numerous accessory options such as Honey Combs, Intensifier, Barndoor and many more.
544 single SMD LEDs per colour (RGBWW) in 4-cluster arrangement
Enables outdoor use thanks to IP65 classification
Adjustable temperature range from 1,800 - 10,000 Kelvin
Adjustable PWM frequency for flicker-free operation
Manual operation on the unit or via EZRemote with the optional UNICON® (CLIREMOTE)
Control options via DMX, W-DMX, ArtNet, sACN & RDM
Ergonomic handles and recessed controls for safe handling
High colour rendering values (CRI 95, TLCI 91), plus 85% coverage of Rec. 2020 colour space
Optional dark filter (CLS4IPDARKFILTER) integrates the panel into any scenery
Numerous accessory options such as Honey Combs, Intensifier, Barndoor and many more.
Description
Whether on a film set, in a TV studio or for live streams - with a softlight panel, people and objects can be staged with a natural, diffuse light. In addition to luminous intensity and flexible handling, natural colour rendering and flicker-free operation for the camera play a decisive role here. With the Cameo S4 IP LED Soft Panel, lighting technicians, lighting designers and content producers get a versatile professional soft light that is also completely convincing in outdoor use thanks to IP65 certification.
The compact S4 IP is based on 544 single SMD LEDs per colour (RGBWW) arranged in a cluster of 4. In combination with the integrated calibration chip, the S4 IP has an extremely natural colour rendering (CRI 95, TLCI 91) as well as an exceptional coverage of the extended Rec. 2020 colour space of 85 percent. In addition, the adjustable colour temperature with its wide range of 1,800 to 10,000 Kelvin enables use in all environments.
In the development of the S4 IP, Cameo not only placed the highest value on the inner light values of the S4 IP soft panel - the housing concept and handling are also convincing with well thought-out functions. The fixed handles on the side ensure safe and comfortable transport and allow the panel to be quickly aligned with people and objects on the set. According to the IP65 certification of the S4 IP, the soft panel has waterproof and lockable powerCON TRUE1 compatible device connectors. Control is optionally via DMX, W-DMX, ArtNet, sACN or RDM.
The operation of the S4 IP is very simple. For direct operation on the unit, the softlight panel has three push encoders, four shortcut buttons and a menu display on the back of the housing. Thanks to the recessed position of the operating unit, the S4 IP is not only protected against accidental adjustment, but also against impacts and other external influences. The panel can be controlled even more conveniently via EZRemote using the optional UNICON® DMX/RDM controller.
As lighting all-rounders, Soft Panels are used in a wide variety of environments - indoors and outdoors. To make the S4 IP the ideal, flexible companion in every situation, Cameo has not compromised on accessory options. In addition to the supplied Omega bracket and the standard diffuser, the spectrum ranges from Honey Combs with 30° and 60° beam angles to Intensifier and Heavy Diffuser to Barndoors, a Centre Mount Yoke or a V-Mount adapter for battery operation. In addition, the optional dark filter ensures inconspicuous integration in any scenery.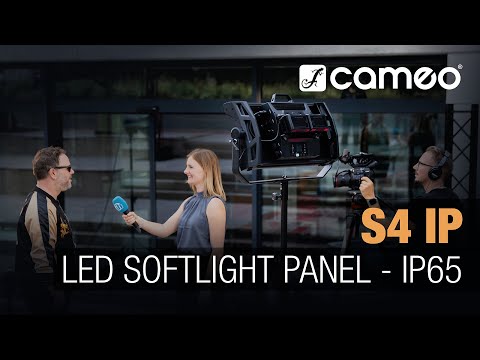 Specifications
| | |
| --- | --- |
| Product type | LED light panel |
| Type | Softlight |
| Colour spectrum | RGBWW |
| REC 2020 Colour gamut coverage | 85% |
| Number of LEDs | 4 x 544 |
| LED type | 0.5 W Single SMD-LEDs |
| LED PWM Frequency | 800 Hz, 1200 Hz, 2000 Hz, 3600 Hz, 12 kHz, 18.9 kHz, 25 kHz |
| Inputs | RJ45, XLR 5-pin male IP65 |
| Outputs | RJ45, XLR 5-pin female IP65 |
| DMX Functions | Colour presets, Colour presets Crossfade, Colour temperature correction, Device Settings, Dimmer, Effect Macro, Effect Macro Speed, Hue Saturation, RGBWW, strobe, Warm White, X & Y coordinates |
| Control protocols | ArtNet, DMX512, RDM, sACN, W-DMX |
| Standalone modes | CCT, Direct, GEL, HSI, Light simulation, Loop, User Colours, X & Y coordinates |
| Controls | 3 x Push-Encoder, 4 x Shortcut-Button |
| Operating voltage | 100 V AC - 240 V AC, 50 - 60 Hz |
| Power consumption | 460 W |
| Power connector | TRUE1 Compatible Power I/O Socket |
| Battery operating voltage | 23 - 36 V |
| Housing material | Metal |
| Cabinet colour | Black |
| Protection class IP | IP65 |
| Cooling | temperature-controlled fan |
| Luminous flux | 27000 lm |
| Color temperature | 1800 - 10000 K |
| CRI | 95 |
| TLCI | 91 |
| Ambient temperature (operating) | -15 - 45 °C |
| Width | 743 mm |
| Height | 381 mm |
| Length | 153 mm |
| Weight | 16,4 kg |
| Accessories (included) | 1 x omega mounting, 1 x standard diffuser |
For a quote on this item, please contact our sales department or make an appointment with our sales representatives.
Adam Hall North America Inc.
sales.us@adamhall.com
+1 973-335-7888