ZENIT® W600 SMD
Outdoor SMD LED Wash Light and Strobe - RGBW Version
Featuring a total of 504 SMD 4-in-1 LEDs with up to 41,000 lm luminous flux for extreme brightness
Precise and high-resolution colours, as well as mixed colours in the RGBW spectrum
12 individually controllable segments
Boost in blinder mode for temporarily increased output
IP65 rated for permanent outdoor use
High-resolution dimmer response thanks to 16-bit technology
2,700 - 6,500 K colour temperature and CRI 85 for uncompromised colour reproduction
Integrated 2.4 GHz W-DMX™ transceiver
Control via W-DMX™, DMX and RDM (via DMX and W-DMX™)
Temperature-controlled fans for optimised low-noise operation
Featuring a total of 504 SMD 4-in-1 LEDs with up to 41,000 lm luminous flux for extreme brightness
Precise and high-resolution colours, as well as mixed colours in the RGBW spectrum
12 individually controllable segments
Boost in blinder mode for temporarily increased output
IP65 rated for permanent outdoor use
High-resolution dimmer response thanks to 16-bit technology
2,700 - 6,500 K colour temperature and CRI 85 for uncompromised colour reproduction
Integrated 2.4 GHz W-DMX™ transceiver
Control via W-DMX™, DMX and RDM (via DMX and W-DMX™)
Temperature-controlled fans for optimised low-noise operation
Description
Designed for discerning lumen beings
With the ZENIT® W600 SMD, you, as a lighting and event technician, can deliver an extremely bright and uniform floodlight in the RGBW spectrum with a high output of up to 41,000 lm. The ZENIT® has been designed in accordance with protection class IP65 for demanding, permanent outdoor use at medium-sized and large professional events up to the lighting of television shows. The W600 SMD is equipped with 504 SMD LEDs and is ideal for use as a floodlight, as well as for stage effects such as strobes or running lights.
Wireless control and fine segment control
The ZENIT® W600 SMD can be controlled via RDM and DMX. A 2.4 GHz W-DMX™ transceiver from Wireless Solution Sweden is also integrated to enable cable-free control as well as wireless master and slave operation. The powerful W600 SMD facilitates precise, independent control of a total of 12 segments via pixel control, even across multiple spotlights.
High-resolution dimmer response and colour mixing with 16-bit technology
Advanced 16-bit technology ensures high-resolution colours, mixed colours, and optimal dimmer response. You can choose between four dimmer curves, and you can also simulate the dimming characteristics of a classic halogen lamp. You also benefit from the wide beam angle of 118° to ensure intense and consistent colours.
Sophisticated cooling concept
Three temperature-controlled fans provide reliable cooling in the cast aluminium housing. Depending on the sound sensitivity of the event, you can choose between three preconfigured modes, such as automated fan control or convection cooling for noiseless operation. The ZENIT® W600 SMD is your perfect tool for highly professional lighting, with features including output capability, precise colours and ease of use.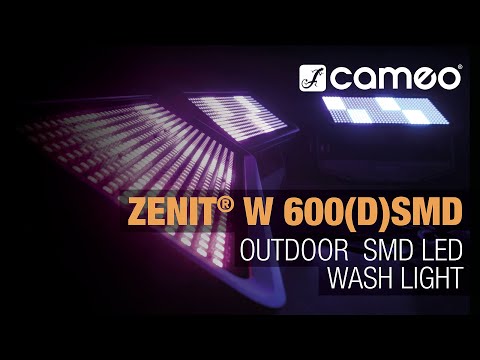 Specifications
Product type
LED Outdoor Wash Light
LED PWM Frequency
800 Hz, 1200 Hz, 2000 Hz, 3600 Hz, 12 kHz, 25 kHz - adjustable
Dispersion
118° (without SnapMag® filter frame)
Lens
PE and tempered glass
DMX mode
1-channel, 2-channel 1, 2-channel 2, 3-channel, 4-channel, 5-channel
DMX Functions
Dimmer, Dimmer Curve, Dimmer Fine, Dimmer Response, Strobe, Strobe Duration, System settings
Standalone modes
Master / Slave mode, Static
Controls
Enter, Mode, Utility, Value Down
Power supply
100 V AC - 240 V AC, 50 - 60 Hz
Power consumption
580 - 1100 W
Power supply connection
PowerCON TRUE1 compatible
Housing material
Aluminium
Cooling
Temperature controlled fan (IP65)
Ambient temperature (operating)
-15 - 40 °C
Accessories (included)
2 x omega mounting, Power cord
For a quote on this item, please contact our sales department or make an appointment with our sales representatives.
Adam Hall North America Inc.
sales.us@adamhall.com
+1 973-335-7888