LUXIS® FC
Full Colour LED PAR 200 W RGBALC
Static spotlight with RGBALC single source COB light source
Compatible with the patented SPIN16® technology (CLZSPIN16)
No multishadows or unsightly colour edges
High CRI 94Ra, strong light output of over 8500lm
CCT infinitely variable from 1900K - 8000K
Strong primary colours and beautiful pastel shades
Easily exchangeable front lens for beam angles between 9° and 48
Push encoder on the back for simple and quick operation of the most important functions such as dimmer, CCT or Green-Magenta Shift
Very quiet fan with different fan modes for every application purpose
Calibrated LED for cross-batch colour fidelity
USB port for optionally available iDMX® stick
Static spotlight with RGBALC single source COB light source
Compatible with the patented SPIN16® technology (CLZSPIN16)
No multishadows or unsightly colour edges
High CRI 94Ra, strong light output of over 8500lm
CCT infinitely variable from 1900K - 8000K
Strong primary colours and beautiful pastel shades
Easily exchangeable front lens for beam angles between 9° and 48
Push encoder on the back for simple and quick operation of the most important functions such as dimmer, CCT or Green-Magenta Shift
Very quiet fan with different fan modes for every application purpose
Calibrated LED for cross-batch colour fidelity
USB port for optionally available iDMX® stick
Description
Innovative standard at the highest level of lighting technology
As a lighting designer or lighting technician, you depend on high-quality lighting components. In TV or film studios, in the theatre and generally on any stage you have to illuminate, you make no compromises. PAR spotlights are part of your indispensable basic equipment. It is all the more important that these spotlights with rich colours, high light output and innovative functionality leave no questions unanswered. The Cameo LUXIS® FC meets all these challenges with flying colours.
Optimal light quality with high CRI free of multishadows
When it comes to colours and mixed colours, the LUXIS® FC literally gives you the full range. The 6-in-1 COB LED provides you with strong primary colours and beautiful pastel shades with very good colour rendering. Due to the single source COB light source, there are no multishadows or unwanted colour edges. The high colour rendering index of CRI 94Ra speaks its own unmistakable language of quality. Not to mention that an LED calibration is installed ex works, which ensures colour fidelity across batches.
Practical operation at the central hub
In the live scenario, the LED PAR spotlight scores with intuitive control and operability. Depending on your individual setup, you can control the LUXIS® FC wired via DMX-512 or wirelessly via W-DMX with the optionally available iDMX® stick from Cameo. A USB port is on board for the use of this function. You can also access the most important functions such as dimmer, CCT or green magenta shift quickly and easily via the practical push encoder on the back of the unit. You can also access the intuitively structured menu via the control buttons and the double-line OLED display without delay. As a lighting technician, you have many things, but certainly no time: the front lens can be changed between 9° and 48° in just a few steps.
Attractive design and minimal noise
Especially in theatre and genre-similar locations, spotlights must not become a visual end in themselves. Rather, the lighting components must be subordinate to the overall picture in a harmonious and unpretentious way. This fact results in a high challenge for the sophisticated and well thought-out design. The LUXIS® FC is designed with an elegant and discreetly rounded, edge-free housing shape that is second to none. At the same time, the "acoustic design factor" has been taken into account: extremely quiet fans are installed for cooling. You can choose from different fan modes, which makes the Cameo LUXIS® suitable for any application and also for noise-sensitive events.
Don't forget useful accessories
Everything you need as a TV/film, theatre, stage or dry hire operator is included. The SPIN16® adapter (CLZSPIN16), lockable power cable and beam, narrow and wide lenses are included. With optional accessories such as the Quicklock bracket, wing barn door, IDMX® stick and the asymmetrical 10° x 60° lens, you can complete the accessories for an all-round perfect application.
Specifications
| | |
| --- | --- |
| Product type | LED PAR Lighting |
| Colour spectrum | RGBALC |
| LED type | 200 W 6in1 RGBALC COB LED |
| Refresh rate | 650 Hz, 1530 Hz, 3600 Hz, 12000 Hz, 18900 Hz, 25000 Hz |
| Dispersion | Beam Angle: 21 - Field Angle: 29 °, Beam Angle: 51 - Field Angle: 63 °, Beam Angle: 9 - Field Angle: 16 ° |
| DMX input | 3-Pol XLR, 5-Pol XLR |
| DMX output | 3-pin & 5-pin, 3-Pol XLR, 5-Pol XLR |
| DMX mode | 1-channel, 10-channel, 12-channel, 16-channel, 20-channel, 3-channel, 5-channel, 6-channel, 7-channel, 9-channel |
| DMX Functions | Colour presets, Colour temperature correction, Device Settings, Dimmer, Dimmer Response, EZ-Chase, RGBALC, Signal Fail, strobe |
| Standalone modes | Auto programs, Dimmer Mode, Loop, preset, Static |
| Controls | Down, Enter, menu, Push encoder, Up |
| Indicators | OLED Display |
| Operating voltage | 100 V AC - 240 V AC, 50 - 60 Hz |
| Power consumption | 280 W |
| Housing material | Die-cast aluminium, Magnesium |
| Cabinet colour | Black |
| Protection class IP | IP20 |
| Cooling | low-noise fan |
| Luminous flux | 8500 lm |
| CRI | 94 Ra |
| Ambient temperature (operating) | -10 - 40 °C |
| Width | 302 mm |
| Height | 466 mm |
| Length | 216 mm |
| Weight | 7,9 kg |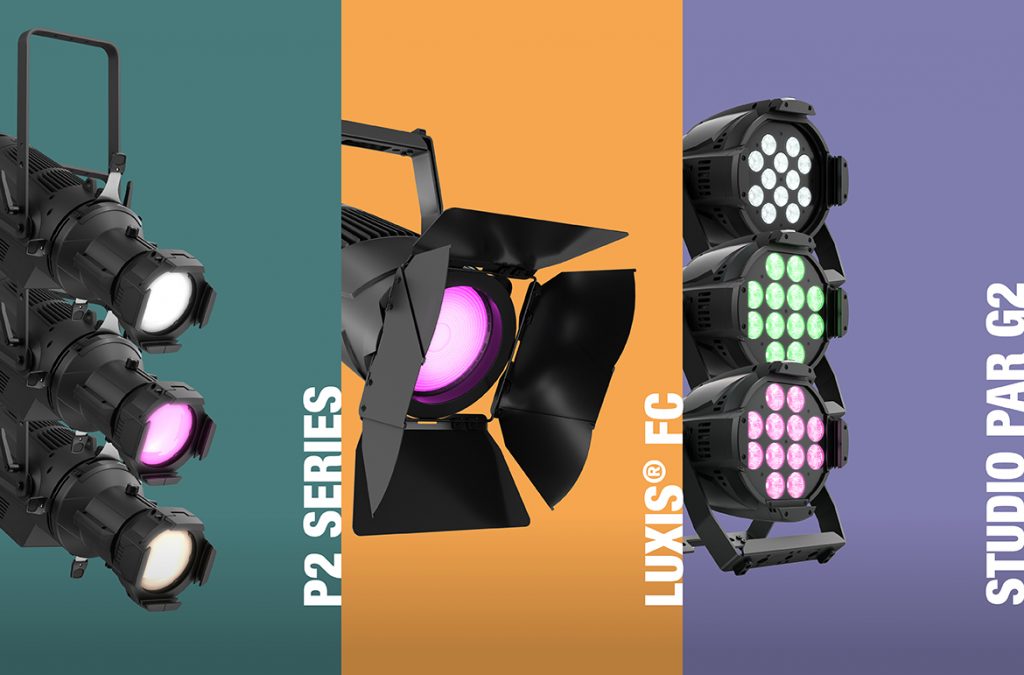 Cameo at Prolight + Sound 2022: new highlights for outdoor events, theatre and more
For a quote on this item, please contact our sales department or make an appointment with our sales representatives.
Adam Hall North America Inc.
sales.us@adamhall.com
+1 973-335-7888