S2 IP
LED Softlight Panel - IP65
272 single SMD LEDs per colour (RGBWW) in 4-cluster arrangement
Enables outdoor use thanks to IP65 classification
Adjustable temperature range from 1,800 - 10,000 K
Adjustable PWM frequency for flicker-free operation
Manual operation on the unit or via EZRemote with the optional UNICON® (CLIREMOTE)
Control options via DMX, W-DMX, ArtNet, sACN & RDM
Ergonomic handles for safe handling
High colour rendering values (CRI 95, TLCI 91), plus 85% coverage of Rec. 2020 colour space
Optional dark filter (CLS2IPDARKFILTER) integrates the panel into any scenery
Numerous accessory options such as Honey Combs, Intensifier, Barndoor and many more.
272 single SMD LEDs per colour (RGBWW) in 4-cluster arrangement
Enables outdoor use thanks to IP65 classification
Adjustable temperature range from 1,800 - 10,000 K
Adjustable PWM frequency for flicker-free operation
Manual operation on the unit or via EZRemote with the optional UNICON® (CLIREMOTE)
Control options via DMX, W-DMX, ArtNet, sACN & RDM
Ergonomic handles for safe handling
High colour rendering values (CRI 95, TLCI 91), plus 85% coverage of Rec. 2020 colour space
Optional dark filter (CLS2IPDARKFILTER) integrates the panel into any scenery
Numerous accessory options such as Honey Combs, Intensifier, Barndoor and many more.
Description
Introducing the Cameo S2 IP LED Soft Panel - a smaller, more compact and still IP65 rated version of the versatile soft light, the S4 IP. With its natural, diffuse lighting, the S2 IP is perfect for staging people and objects in any environment, whether it be on a film set, in a TV studio, or for live streams.
Despite its smaller size, the S2 IP still boasts an impressive 272 single SMD LEDs per color (RGBWW) arranged in a cluster of 4, ensuring an extremely natural color rendering (CRI 95, TLCI 91) and an exceptional coverage of the extended Rec. 2020 color space of 85 percent. It also has an adjustable color temperature with a wide range of 1,800 to 10,000 Kelvin, making it suitable for use in any lighting environment.
The S2 IP's well thought-out design ensures easy and safe transport with fixed handles on each side. It also has waterproof and lockable powerCON TRUE1 compatible device connectors, thanks to its IP65 certification. Control is optionally via DMX, W-DMX, ArtNet, sACN, or RDM.
Controlling the S2 IP is a breeze, thanks to its straightforward and user-friendly operation. With three push encoders, four shortcut buttons, and a menu display located on the back of the housing, adjusting the settings is quick and easy. If you prefer remote control, the S2 IP is also compatible with the optional UNICON® DMX/RDM controller, which can be operated via EZRemote for even more convenience.
To enhance the versatility of the S2 IP in various settings, Cameo offers a range of accessories. The package includes an Omega bracket and a standard diffuser. Some of the optional accessories, such as the V-Mount adapter for battery operation, can also be used with the larger version called S4 IP, making it easier for users to switch between the two models. Additionally, customers can choose from Honey Combs with 30° and 60° beam angles, Intensifier and Heavy Diffuser, Barndoors, and an optional dark filter to ensure inconspicuous integration into any scenery. With these options, the compact and flexible Cameo S2 IP LED Soft Panel is the perfect solution for achieving optimal lighting in any environment.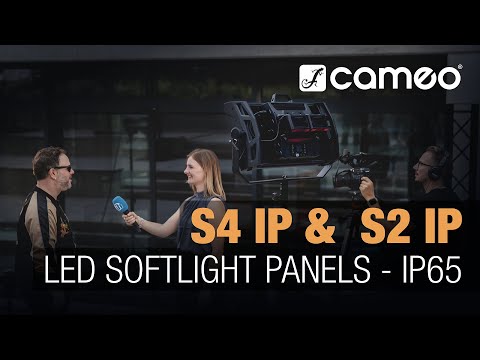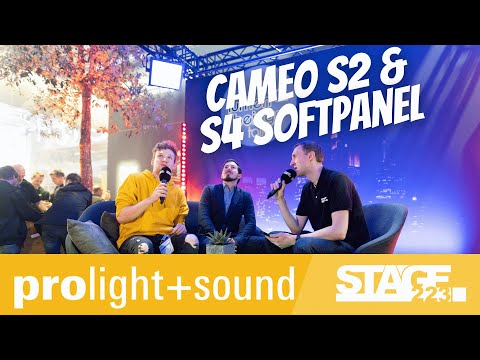 Specifications
Product type
LED light panel
REC 2020 Colour gamut coverage
85%
LED type
0.5 W Single SMD-LEDs
Refresh rate
650 Hz, 1530 Hz, 3600 Hz, 12000 Hz, 18900 Hz, 25000 Hz
Inputs
RJ45, XLR 5-pin male IP65
Outputs
RJ45, XLR 5-pin female IP65
DMX Functions
Colour presets, Colour presets Crossfade, Colour temperature correction, Device Settings, Dimmer, Effect Macro Speed, Hue Saturation, Light simulation, RGBWW, Strobe, Tint, Warm White, X & Y coordinates
Control protocols
ArtNet, DMX512, RDM, sACN, W-DMX
Standalone modes
CCT, Direct, GEL, HSI, Light simulation, Loop, User Colours, X & Y coordinates
Controls
3 x Push-Encoder, 4 x Shortcut-Button
Operating voltage
100 V AC - 240 V AC, 50 - 60 Hz
Battery operating voltage
23 - 36 V
Illuminance
223 lx @ 5m (standard diffuser)
Luminous flux
Full On: 16000 lm
Power connector
TRUE1 Compatible Power I/O Socket
Housing material
Magnesium alloy
Cooling
temperature-controlled fan
Color temperature
1800 - 10000 K
Ambient temperature (operating)
-15 - 40 °C
Dimensions including Mounting Bracket
Accessories (included)
1 x omega mounting, 1 x standard diffuser, Power cord
For a quote on this item, please contact our sales department or make an appointment with our sales representatives.
Adam Hall North America Inc.
sales.us@adamhall.com
+1 973-335-7888